Shuvani Dance Company Troupes: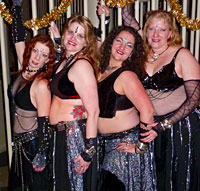 Hareem Shar'eem has been performing in Northeastern Ohio since 2001. They have showcased various styles of middle eastern dance including tribal, cabaret, Rom, Goth, burlesque, and fusion. The troupe utilizes facets of many other dance styles in their choreographies, including jazz, hip hop, modern dance, ballet, ballroom, Asian traditional dance, bharata natyam and flamenco, creating an innovative and original repertoire within which they can explore middle eastern dance. While each member has her own preference in dance style, the troupe remains dedicated to engaging in the evolution of the art while maintaining the foundations of a profound dance form which celebrates femininity in all its forms.

Maevyn-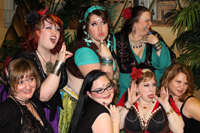 The idea for this "super-troupe" (as some call it), was born on a very long road trip to Indiana. A few of the ladies of Shuvani Dance Studio started to brain storm... Maevyn was born to be out of the box, fun, and provide a challenge for all of the different dancers who attend classes at Shuvani Dance Studio. The troupe is open to join, all you need to do is sign up for it and be prepared for a challenge! All members of Maevyn learn a full choreography in one class session, and are ready to perform it in two or less!